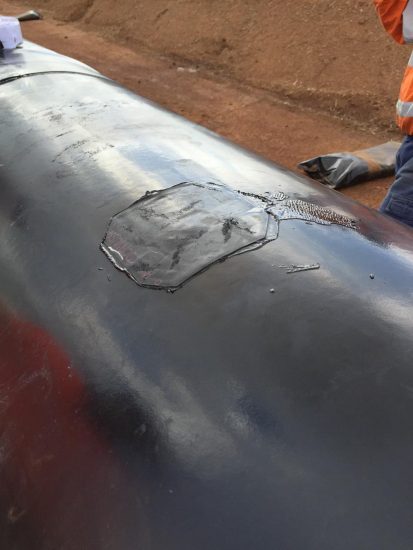 Australia's aging pipeline network is nearly as vast as the country itself, making it important for asset owners to invest in effective repair solutions if they see signs of degradation. In-situ coating repairs can prolong the life of a pipeline and prevent further corrosion more efficiently, and costing less than complete pipeline replacements.
According to Justin Rigby, Managing Director at Remedy Asset Protection, when coating is done poorly, the life of an asset is compromised and valuable time, money and resources are wasted. 
He said a major component to getting pipeline maintenance right is treating in-situ repair work with the same high level of importance as the initial coating.
"There is often a vast amount of engineering, design, financial modelling and regulatory approval involved in preparation for in-situ pipeline repair. The actual project may require permits, traffic management, excavation and materials testing, followed by treating corrosion and protective coating prior to eventual back filling and site reinstatement," Mr Rigby said.
"The asset owner is subjected to a range of costs in the order of ten times compared to the protective coating works. Owners gain the best value by ensuring their in-situ repairs are completed to achieve maximum durability in excess of 25 years."
Tailoring repair work
While this type of repair work is highly efficient, it's important for asset owners to engage directly with corrosion professionals to ensure a holistic approach.
"Although a head contractor might be compliant in many project disciplines, asset owners need to engage coating professionals who understand a project's specification," Mr Rigby said.
Engaging an experienced corrosion solution company such as Universal Corrosion Coatings (UCC) when undertaking in-situ coating repair work can go a long way in delivering long-term asset performance.
UCC provides materials and solutions to repair corrosion and material degradation issues across the oil and gas, water, energy, marine, mineral processing and civil infrastructure sectors in Australia. Remedy Asset Protection can also assist in developing holistic project specifications that address all of the key issues.
"UCC has been a successful partner in pipeline projects where Remedy Asset Protection provided specification expertise whilst also performing coating inspection of applicator works during protective coating stages," Mr Rigby said.
By engaging the right professionals for in-situ coating repairs and tailoring works to the specific pipeline, asset owners can be confident that repairs will last and that no time or money is wasted.