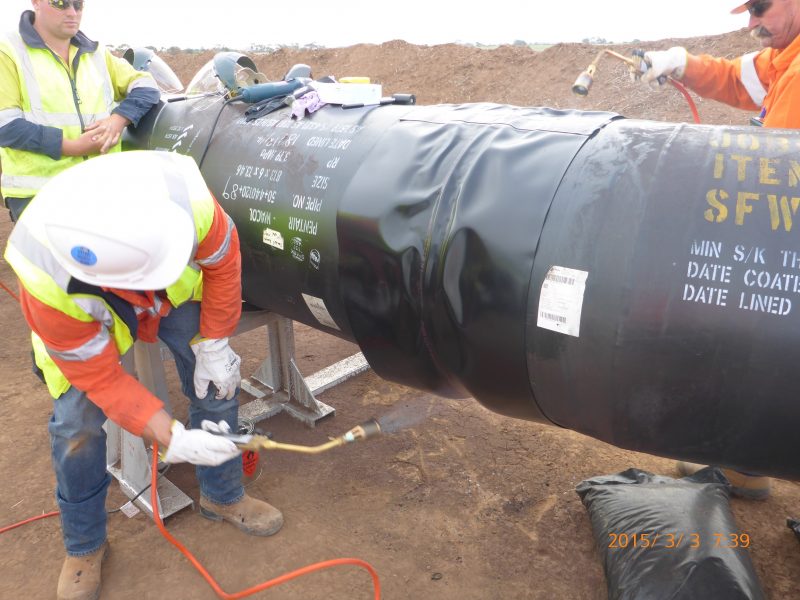 he recent boom in pipeline construction means there is now more buried pipeline in Australia then ever before. An increase in projects has also created new innovations in protective coatings to ensure the longevity of pipelines. These new coating developments are providing enormous benefits, but if they aren't applied properly, can cause significant headaches.
In pipeline coating applications, issues can arise from poor coating implementation, unsafe practices, equipment mishandling, overspray and waste — the risks of which are increased if the applicator has not received proper training. While these problems can lead to huge financial, legal and environmental costs for businesses, in-depth industry training is emerging as a simple solution.
If the coating or lining isn't applied skilfully, the job quality will suffer. This can potentially lead to costly repairs and re-work as a result of premature coating or lining failure and the effects of corrosion.
Within the Australasian protective coatings market there has been a call, particularly among fabricators, applicators and engineers, to set industry approved standards for coating installations. Many believe, however, that training and accreditation is the easiest and best solution to increase efficiencies and reduce these risks for new applications.
The benefits of training and accreditation
The benefits of having a knowledgeable labour force is observable throughout the entire project cycle. Having trained and accredited applicators and fabricators means they will apply coatings using the proper techniques the first time around, so the job only has to be done once, reducing labour and potential re-work costs.
Additionally, with skilled personnel following inspection and safety protocols, unsafe behaviours and on-site accidents would reduce significantly. Best practice for reducing overspray and waste, and the correct use, maintenance and storage of application equipment is an added bonus.
David Anderson, Sales and Marketing Manager at Universal Corrosion Coatings (UCC), said that by training those closest to the installation and application process, quality control would be managed on the front line.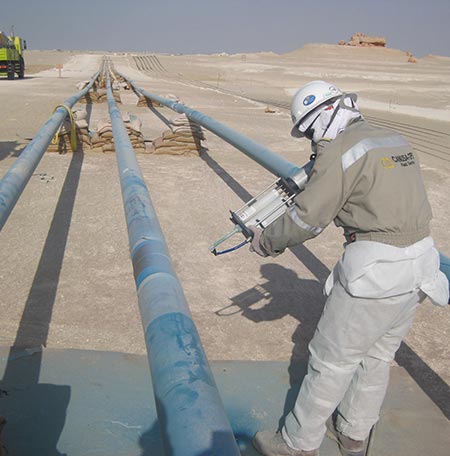 UCC is an Australian company that provides solutions to corrosion and material degradation issues in water, and oil and gas pipelines, marine, and civil infrastructure sectors.
"Contrary to what many people think, quality control is not in the hands of the inspector," Mr Anderson said.
"Inspectors only check or confirm quality, whereas the coating applicator is the one who actually controls the quality of the application."
Additional education for asset owners
Functional and productive training would also increase the confidence of asset owners, consultants and contractors, and provide them with the knowledge needed to select the correct coatings for their projects, review and interpret vendor painting procedures and better understand reports.
Knowing that coating products are only as good as those performing the applications and wanting to lead the drive towards better protective coating standards, UCC provides project specific Applicator Training and Accreditation for all of its product solutions in the Australasia region.
This ensures that all UCC products are installed correctly to provide the long-term protective performance required. The training is based on extensive field data and analysis collected from its marine, offshore, construction, petrochemical and civil protective coatings segments and has been developed specifically with applicators in mind. This offering is already popular among Australian pipeline owners, contractors and oil companies.
As with any industry, skilled personnel are a businesses' biggest asset so every effort should be made to provide continued support for applicators. Industry training can help reduce costs, increase worksite safety and secure the longevity of corrosion coating products.
For more information on how your project can benefit from UCC's corrosion solutions and specific applicator training and accreditation, contact enquiries@unicc.com.au.